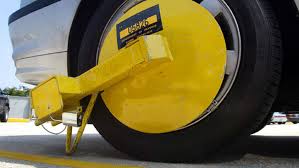 One of the most important amenities to many tenants is adequate parking at the apartment complex they are renting from. Many value having their parking lot enforced to keep unwanted visitors from parking in their spot. Hiring a vendor for this enforcement can help alleviate these concerns at some of the bigger complexes we manage.
There are various issues that have resulted in enforcing parking at certain complexes. These issues include but are not limited to:
Other people park in a resident's assigned spot, causing a chain reaction of incorrect parking.
Insufficient guest parking so guests take up residents parking.
They own more vehicles than they are assigned, therefore taking up other residents parking.
Since we've started using Deep Six Parking Enforcement, we have had less parking issues that we have to handle, increase rentability of available units through offering this amenity, and keep parking limited to people on the rental agreement; this is especially helpful in downtown Boise during BSU games.
Obviously, parking enforcement is strict and will sometimes upset tenants but Deep Six has been great about communicating the rules to avoid this from happening. If issues do arise, Deep Six will always take ownership and try to handle the conflict before it comes to FRPM. The residents who currently have parking enforcement feel safer knowing that all they have to do is make a phone call and the parking enforcement company will come directly to the property to assist. One of the greatest aspects of this service is that is completely free for investors and managers!
We have very clear policies detailed within our lease agreement that allows us to issue lease violations and enforce it when necessary. We have also seen decrease in vandalism at our properties and our residents have peace of mind knowing they parking lot is being surveyed. Deep Six Parking Enforcement even complies with city code, records, and documents to ensure they are running smoothly and fairly.