Below is an article in the July issue of the Residential Resource, written by Colleen Harding from Miami. Within the article, Colleen describes factors that are making up today's housing rental market. Much of what Colleen has to say is what we have reported in the past. There were a few points that I found very interesting.
1. Millennials find value in investing into rentals, but prefer to rent.
2. Class C properties will be the bread and butter for investors.
3. Over 15% of the nation's rental properties are owned by institutions.
4. The number of rentals across the nation are expected to grow by another 25% in the next 5 years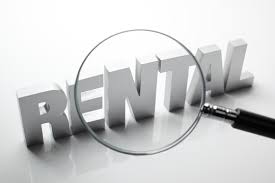 Below is a summary with some of our own input.
MILLENIALS:
Colleen reports that millennials are staying home longer, have high student loan debt, and some reservations about home buying after seeing the last housing crash. They like flexibility, by not being tied down.
We have seen much of what Colleen has stated. We are however seeing a good number of millennial renters, but they seem to prefer roommates to help defer costs. Colleen also stated that milennials look for luxurious amenities. Perhaps that's case in many parts of the nation, but in Boise, we're seeing that they are looking for the most for the least amount of rent.
OWNERSHIP VS RENTALS:
Colleen states that "Lower-income Class C properties will continue to be the bread and butter areas for rental investment, accentuating the need for good professional property management".
We've been concentrating on B properties. We think that when rents finally top out and we see a rental correction, the B properties purchased right, will outperform the A properties that are being sold at premium prices and require premium rents to perform.
HOME OWNERSHIP TENURE:
The length of time a person owns and hold their home has increased. One reason was it took some time to recover value after the housing crash. With values increasing, this may decrease.
The full article is posted below.
---
Where Is It Going?
RENTAL HOUSING MARKET
At the recent IMN Single-Family Rental Investment Forum in Miami, Florida on May 21-23, 2018, this was one of the major discussion topics. A study has shown that the number of Americans living in rental properties has increased by 37% since the Great Recession.
Millennials
This generation is staying home with their parents longer. High student loan debts and a tight job market, with little overall increase in pay, have not helped. They have witnessed the crazy housing market, when some of their parents lost their homes, and the stress it caused the family. All of these factors contribute to staying home longer. Some Millennials are not interested in owning a home; they don't want to be tied down and like to stay mobile. If they buy, they are waiting five years later to buy than those in the older Generation X. The new trend for Millennials is home ownership without occupying the property. They are buying rental investments and living in other areas. They find value in having the availability to move freely, generate equity, and diversify their investments.
Millennials have higher expectations, whether they own the asset or rent it. They want better distribution of products and services, affordability, and quality housing with luxurious amenities, including gym, pool, Wi-Fi, and entertainment nearby.
Ownership vs. Rentals
Healthcare and college education costs continue to rise much more quickly than middle-class incomes, further limiting the ability of Millennials to buy as early as their parents. Mortgage interest rates have stayed low during the recovery from the recession, but are expected to rise now, further limiting the ability for the younger generation to buy homes.
Lower-income families will remain as renters and their chance to achieve the "American Dream" of home ownership and the stability this has brought to their Boomer parents, are diminishing rapidly. The top 5% are doing just fine, with annual income growths of 6.9%. Earnings of the top 20% are also good at 5.7% yearly. However, incomes are growing at around 4% for the remaining 80% of the American population.
This is the sector that contains almost all of our tenants. Over the short term, this is good news for rental income investors. But will there be less stability, over the longer view, if this continues?
Home ownership percentages in the wealthier neighborhoods ranges from 60 to 79%. In the poorer areas, from 46 to 59%. Lower-income Class C properties will continue to be the bread and butter areas for rental investment, accentuating the need for good professional property management, especially in such areas.
I was fascinated to learn that there are almost 8,700,000 owners who have from one to ten homes, 58,960 owners with 11 to 25 properties, 11,502 owners who have 26 to 100 properties, 879 owners who have 101 to 500 properties each and 56 of the biggest investors with more than 500 properties each. My Miami market ranks within the topmost 13 markets in each of the size ranges.
Home ownership tenure
This figure has increased from the long-standing rate of four to five years, to as much as 8.05 years in 2017. This was caused by a variety of reasons as the value of their homes recovered from the recession of 2008. Lack of equity, inability to move up, and less attractive financing, were other main reasons. The length of tenure is expected to drop soon.
Monthly foreclosure activity
This activity is now back to normal levels at about 75,000 vs. the peak in 2009 and 2010 when it reached 350,000. There are still good buys available in the off market from some sources who are obtaining them directly from the big banks
Where do we go from here?
There are 13 million rental properties nationwide and projected to increase to 17 million by 2024. Two million of these properties are owned by institutions. The potential to own properties is very good. With capital flowing into rental housing and attractive interest rates, more supply will be added to the rental market. The end users are willing to pay more for quality rental properties which will help to enhance the quality of life and a better environment for all.
---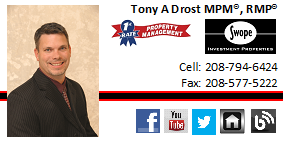 Tony Drost, Chairman
First Rate Property Management, Inc.
Boise, Idaho
Contact me for more information about the Investment Real Estate and Property Rental markets in Boise and Idaho.