The SW Idaho National Association of Residential Property Managers has released the latest vacancy reports for Q1 of 2023, from Ada and Canyon County. This data, collected from a total of 5,207 rental units, indicates that vacancy rates in both counties decreased from Q4 of 2022, to Q1 of 2023. Overall, vacancies dropped 0.03%, for an average rate of 3.46% for single and multifamily homes.
In Ada County, the average vacancy rate for multifamily units was 4.06%, while the vacancy rate for single family homes sat much lower at 1.80%. In Canyon County, multifamily units had a slightly higher vacancy rate in comparison to Ada, sitting at 5.35%. The vacancy rate for single family homes was also higher in Canyon than in Ada, sitting at 2.45%.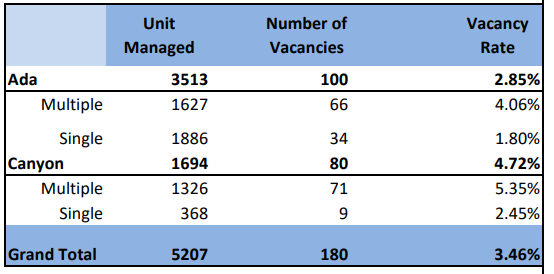 It appears that the supply of multifamily units finally outweighed the demand in Q1 of 2023, with the data displaying a lower price for average rents and a higher vacancy rate for multifamily units in both Ada County. With the peak months ahead for renting in May through August, FRPM is predicting the average rents to increase slightly in Q2, as the typical competition seen during the summer months drives up the price.

The average price for single family homes in Ada County was 2,160, and in Canyon County, the average was $1,930. For multifamily homes in Ada County, the average home rented for $1,953, and in Canyon County, the average was $1,740. Historically, multifamily units have been sought out by renters as the cheaper option, but the push for new construction of multifamily units and high density living, especially in Canyon County, continues to reduce the price gap between the two types of dwellings. A plateau in vacancies is expected if the market follows its usual trend. However, contributing factors such as rising interest rates, rising inflation rates, and increased cost of living for all Idahoans makes the future rental market unpredictable.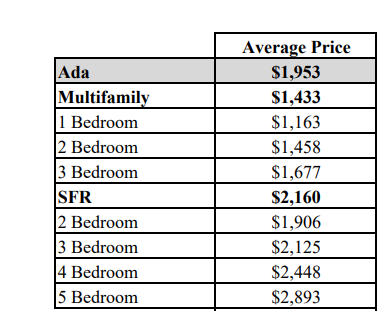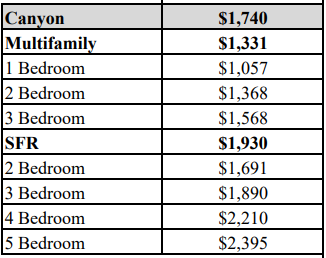 Link to full report here!