Closing out Q3 of 2021, vacancy reports from the National Association of Residential Property Management indicate the rates have increased to 3.3%. However, looking back at the 3rd quarter of 2020 to the 3rd quarter of 2021, rates have decreased overall by 1.22%. First Rate averaged an overall vacancy rate of .7 percent for the duration of the Q3. We expect this trend to continue, as we move into Q4 and approach that vacancy rate plateau seen in years passed.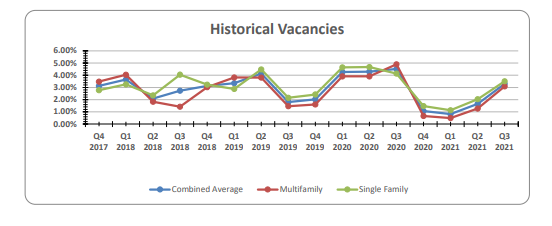 The average rental rate in Q3 for Ada County was $1,638. Marketed SFH rental rates decreased this quarter by $24 per unit in monthly rent cost. Multifamily increased by an average of $84.00 in rent per month in the 3rd quarter of 2021.
As the valley continues to grow exponentially, new construction of large, 4-to-5-bedroom SFHs in the Nampa and Caldwell areas has also soared. This increased availability is directly reflected in the Canyon County data, with the average price for a rental rising $238 in Q3 to $1,681.
Click here to read the full article! Q3 NARPM Vacancy Report