Earlier this month, Tony attended the Boise Regional Realtor's Ada County Housing Summit. Within this blog, we wanted to focus on the mid year housing market report. Some of the other speakers spoke on topics such as, revitalizing community neighborhoods, affordable housing, and community involvement.
Click here Mid-Year-Housing Summit to view the market report. Below are some highlights.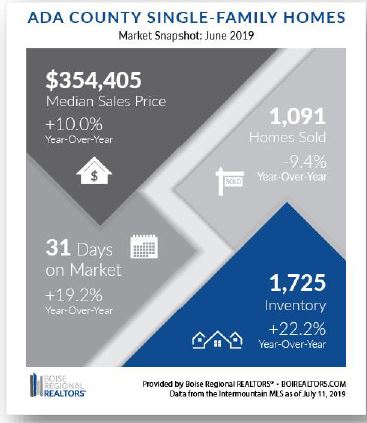 Historical Monthly Inventory vs. Median Sales Price for Ada County
The report shows that during the boom, such as in 2005-2007, inventory levels still remained far higher than median home prices and prices were driven mostly by speculative buying. Inventory and median sales price fell together through Jan 2012. Today, there is a huge disparity driven mostly by migration to Idaho with families wanting to buy homes. The low inventory and high demand has shot median home prices.
Historical Annual 30-Year Fixed Mortgage Rates for the U.S., 1971-2018
Today's low rates has increased purchase power compared to the previous market peak in 2007, as lower rates are allowing people to pay higher prices. The low rates since 2011 may play a part in our low existing inventory levels.
Share of Total Home Sales that were New Construction Compared to the Overall Average Sales Price in Ada County, 2016–2019 YTD
As new construction sales made up an increasingly larger share of total home sales, the overall sales price grew year-over-year. This is due to new home prices being, on average 32.2% more than existing homes, because of higher land, labor, and materials costs. So as more new, higher-priced homes sold, it brought up the overall median sales price for the county.
Share of Existing Home Sales by Price Range in Ada County, 2004-2019 YTD
The share of existing homes in Ada County priced below $199,999 was at 53.7% during the previous market expansion. That share increased to 65.5% through the Great Recession and then settled at 59.9% through August 2014. But as lower-priced existing inventory has been held back from the market, the share of total existing home sales priced under $200,000 has dropped to just 26.3%, causing the median sales price for the segment to rise over time. This, combined with more new construction sales selling at a premium, has pushed the overall median sales price for Ada County to new record highs — reaching $354,405 in Jun 2019.
Primary Factors Limiting Existing Housing Supply
More seniors are staying in their existing homes instead of selling. Investors are keeping single-family properties as rentals. Many homeowners are staying put because of the existing low rate mortgage. Despite equity, homeowners "locked in" due to limited inventory and rising prices compared to local wages.
Changes in the Existing Median Sales Price at the Previous Peak (2007), through the Recession Low (2011), Local Recovery (2014), and Current Expansion Activity for existing single-family homes in Ada County
Many who purchased in 2006 and 2007 were unable to sell in later years, as prices fell 40-60% through 2011. More than a decade later, they are finally seeing their equity return, but are hesitant to list due to the lack of available inventory to move to. Those who purchased in 2011 may have significant equity to roll into another home, but today's prices are up 130-190% since then, making a new existing home potentially out of reach for many, although lower mortgage rates are helping some.
Factors Driving Demand for Housing
Rising rents make buying a home more attractive for those who are able. People moving to the Boise area to retire. Demand from servicemen and women stationed at Mountain Home AFB. Millennials are "aging into" homeownership. In-migration from higher-priced metros due to our comparative affordability.
Minimum Incomes Required to Afford Average Rent or Purchase Median Priced Home in Ada County, June 2019
The minimum income required for a rental assumes income is 40 times higher than the average monthly rent, which was $1,050 in June 2019, up 2.2% from last year is about. $42,000. To purchase the median price home of $354,405 as of June 2019, the minimum income required is $58,000 per year and assumes a 30-year fixed mortgage of 3.8% including PITI, with a down payment of 20%, and spending no more than 28% of monthly gross income on a payment.
Melissa Sharone
President, First Rate Property Mgmt.
Melissa@frpmrentals.com