Now that the busy rental season of summer is ending, I thought we'd take a look at how First Rate has navigated this unprecedented market, as well as explain the Who, What and Why of FRPM's renewal strategy. Idaho has seen an average increase in rent of 25% over the last year, and Boise has seen a 29.5% growth.[1] Compare Boise's rent increase to the national average of 12.4%, and you know something crazy is going on here in the City of Trees!
Who has this growth in rents affected? Renters, property managers, and property owners – basically, everyone! Both in the rental market and real estate market, demand is far exceeding supply because of the increased population. Though Boise's median rents are still below other major Western cities', the steep incline we've experienced in the last year has been a financial challenge for renters. Consider: the average hourly wage of a worker in Ada County has only increased 5.4% between the first quarter of 2020 and the first quarter or 2021; the national average increase was 5.6%. Additionally, Ada County's average wage ranked 190th in a list of the 343 largest U.S. counties.[2] On the flip side of the coin, the rise in property values means property taxes are also going up for our owners, and this year saw a 25% increase in valuations.[3] Also, maintenance and cleaning vendors are seeing higher demand with the population increase, which makes it hard for property managers to get appointment availability when a property is vacated. The increased demand also means increased rates for many of our vendors, which just adds to owners' expenses.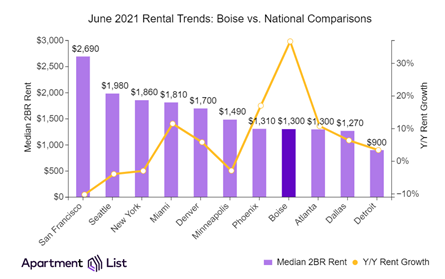 What does this all mean for renewing leases? For renters looking to move, not only is there a lot of competition because of a lack of supply, the cost of owning property is also rising, leading to higher and higher rents. When tenants move out and properties become available, FRPM compares listings for similar units in order to find the market rate. However, for our renewing renters, First Rate has been finding the market value, and then splitting the difference between what tenants are currently paying and what market is. We always try to give the tenant 60 days' notice of what the rate increase will be so they have ample time to weigh their options. Though some tenants have had large increases in rent this year, the vast majority are still below market and are saving money by not moving to a different, comparable property.
Why does First Rate stay below market for renewals? This is to benefit everyone; the tenant, the owner and FRPM – it's a win-win-win! The tenant receives a discount for remaining at the property and renewing their lease, the owner avoids the costs involved with turning over the property such as advertising and maintenance, and First Rate benefits by being able to provide continued service to our tenants and owners.
First Rate takes our commitment to both tenants and owners seriously, and finding a balance between the owner's expenses and the tenant's renewal rate is always our goal. If you are a tenant or an owner that has questions about our renewal process, do not hesitate to reach out to me! Beny@frpmrentals.com
[1] Apartment List's Boise rent report as of 9/21/21: https://www.apartmentlist.com/id/boise#rent-report
[2] U.S Bureau of Labor Statistics News Release: https://www.bls.gov/regions/west/news-release/countyemploymentandwages_idaho.htm
[3] Idaho Press article, "Boise property values up 25%: Ada County assessor; homeowners to see property tax increase": https://www.idahopress.com/news/local/boise-property-values-up-25-ada-county-assessor-homeowners-to-see-property-tax-increase/article_cbdde30e-b78b-537d-8c18-540b71ee0e14.html