As Boise's population has boomed in the last decade, so have our area's pest issues. One type of pest that we have encountered more frequently as a property management company is bed bugs. Bed bugs can be an embarrassing and uncomfortable topic, but it is important to remember that anyone can get them. Also, while it is very important to have the infestation treated as soon as possible to prevent spreading, bed bugs are not known to transmit diseases or cause any severe health issues.
In an effort to be proactive about pests and offer our tenants the best service, First Rate Property Management has partnered with Pestcom, a local, well-regarded pest control company, and will be extending Professional Pest Protection to all new tenants beginning January of 2020! This covers bed bugs as well as bees, ants, spiders, cockroaches, fleas, and many other common pests that tenants frequently encounter. Our existing tenants can opt into this service package as well.
Offering a pest control program is a win-win situation for both tenants and owners. Sometimes the source of the infestation is hard to identify, which makes it difficult to determine if the tenant or the owner pays for the costs associated with treatment. Tenants will also be more likely to report infestations if they know they will not be charged for the pest treatments, which will decrease the spread of bed bugs and lower costs for everyone. As bed bugs become more and more common, best practice for property managers is to create a contingency plan on how they will handle infestations, and proactively open up the channels of communication with their tenants about this issue.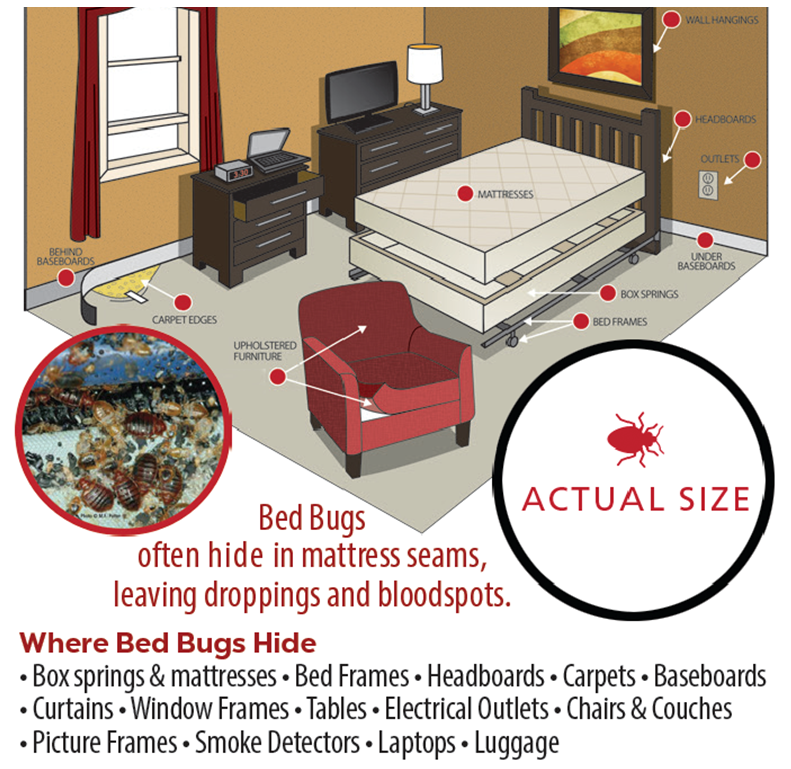 Where do bed bugs hide?
When not feeding, bed bugs hide in a variety of places, but they especially love tight spaces. Around the bed, they can be found near the corners, in the piping, seams, and tags of the mattress or box spring, and in cracks on the bed frame and headboard. Bed bugs can squeeze into really small hiding spots; if a crack will hold a credit card, it could hide a bed bug!
How do I know if I have them?
• Small, dark reddish spots on sheets and mattresses.
• Eggs and eggshells, which are tiny (about 1mm) and pale yellow skins that the bugs shed as they grow larger.
• Bites are not an accurate way to determine if you have bed bugs, since they can be mistaken as rashes. Some people do not react to bed bug bites at all! If you do have a reaction, the bites are commonly in a line.
Can I Prevent Bed Bugs?
Unfortunately, bed bugs are excellent hitchhikers and hiders, which means there is no foolproof way to prevent an infestation. However, here are some helpful tips that can reduce your risk:
• Thoroughly check and vacuum suitcases when returning from a vacation.
• Never purchase or bring home used furniture without checking it THOROUGHLY for signs of bed bugs. Keep in mind that they don't just live in mattresses; they can also be found in dressers, nightstands, etc. Use a bright flashlight to check the furniture, and remember they love tight spaces.
• Keep your home clean and clutter-free.
• Be careful at shared laundry facilities. Check your surroundings and the machines. Only high heat can kill them, so make sure the dryer is working properly.
• Use the room map included in this post to occasionally check your bedrooms for common hiding places, especially after travelling or having houseguests.
What do I do if I think I have bed bugs?
Do NOT try to treat the infestation yourself. Over the counter treatments are ineffectual, and can often lead to the bed bugs spreading out even further into your home or into your neighbor's home. These treatments can also interfere with the treatments that the professionals will use.
If you are a tenant of First Rate, call us immediately – 208-321-1900