First Rate Property Management received the below email from the Deputy Chief - Fire Marshal of Meridian Fire. Also, they provided the attached Smoke and Carbon Monoxide Detector Log Sheet and Parking Lot Safety Tips.
FRPM: tests, replaces, and adds detectors as needed at each tenant turnover. Additionally for those property investors who choose to opt into our preventative maintenance, these detectors are tested again and repaired or replaced as necessary.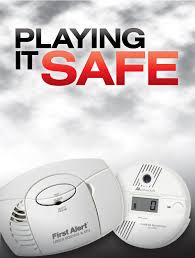 Good morning managers and owners. We recently had a fire in an apartment complex. The crews arrived on scene and found the smoke detectors were not functioning. I pulled it off the ceiling when I was doing my investigation to find it was 17 years old. Smoke detectors have a 10 year life span and CO detectors are about 7 years. They need to be replaced and checked at a regular interval.
I have created a log sheet to help capture the data, so you can keep track of these types of alarms. When we come for your annual fire and life safety inspection, we may ask if you are using the log.
As a reminder CO detectors are also required if you have gas fired appliances, or an attached garage.
PS – I have also attached a flyer for parking lot safety. We developed this for a complex here in town.
If the fire department can help with anything, please let me know! Have a great week!
Joe Bongiorno CFEI
Deputy Chief – Fire Marshal
Meridian Fire
33 E. Broadway Ave., Ste. 210, Meridian, ID 83642
(Direct) 208-489-0458 (Cell) 208-936-9554
---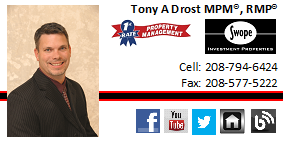 Tony Drost, Chairman
First Rate Property Management, Inc.
Boise, Idaho
Contact me for more information about the Investment Real Estate and Property Rental markets in Boise and Idaho.