As an owner, tenant, or landlord, it is important to be informed on the latest proposed cap on rental application fees and how it will affect you. Councilwoman, Lisa Sanchez, has proposed an ordinance to cap rental application fees at $30. On October 29th, 2019 the people of the city were allotted 3 minutes per individual to discuss their concerns and position. Here is what you need to know:
There are five points included in the proposed ordinance.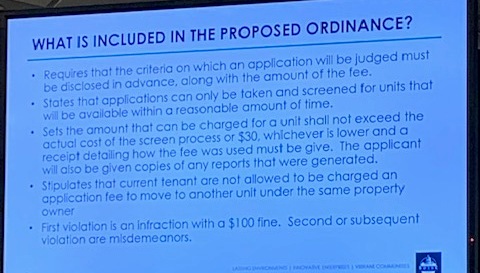 1) Requires that the criteria on which an application will be judged must be disclosed in advance, along with the amount of the fee.
This is a common best practice among most Property Management companies and especially among those among the SW Idaho Chapter of the National Association for Residential Property Management. First Rate Property Management and many professional property managers support this section of the ordinance.
2) States those applications can only be taken and screened for units that will be available within a reasonable amount of time.
I believe this part of the ordinance was envisioned to keep prospective tenants from feeling pressured to move into an apartment as quickly as possible. In the property management industry, limiting the time those properties can be available, will result in an added pressure to tenants to find an available rental quickly, have their money quickly, and move in quickly. By limiting the amount of days that a property management company can advertise an upcoming available unit, the result would actually be the opposite of the intent.
Once leases are signed, the next thing to do should always be to deactivate advertising. This is not only to minimize the cost for owners but to keep prospective tenants from unknowingly and inadvertently paying an application fee on an apartment that is actually no longer available. FRPM practices this ever time a tenant gets approved. I suggest other property managers or landlords follow suit.
3) Sets the amount that can be charged for a unit shall not exceed the actual cost of the screen process or $30, whichever is lower and a receipt detailing how the fee was used must be given. The applicant will also be given copies of any reports that were generated.
4) Stipulates that current tenant are not allowed to be charged on application fee to move to another unit under the same property owner
In order to find quality tenants, our screening criterion needs to be met. This is consistent across the board with every person that comes in to our office to apply. The Fair Housing Act requires that all property managers hold applicants to exact same standard throughout their businesses. The hard costs to acquire accurate information regarding credit, criminal, rental history, and income can range anywhere between $30 - 100. This range is determined by an abundance of factors including but not limited to state of the search, name changes of the applicant, and rental verifications. Hard costs do not include the cost of labor used to acquire the information, communicate with the tenant, and any other administrative processes that might be needed.
According to Sanchez's story, one of the things that inspired her to want to advocate for such an ordinance was when a friend of hers & long time tenant wanted to switch units and the property management company required her to re-apply. This was extremely disheartening for Sanchez to hear and she thought she'd take action to protect tenants in similar situations.
What Sanchez may have been unaware of when proposing this ordinance is the thinking behind the property management position. As a tenant in a multi-family dwelling, it is important to know that you are safe in your home and trust that your neighbors are not a threat to you or your family. The property management company, likely wanted to ensure that Sanchez's friend had maintained reasonable financial responsibility and a clean criminal record since the time she first applied.
We know how difficult it can be for low income families to find a place to rent, and we work hard to accommodate as many people as possible. Here at FRPM, when existing tenants are moving out and want to apply with another one of our available listings, we require them to pay and apply to ensure the safety of our owners and other tenants, but once they are approved we credit their application fees back to their account. This is a great benefit to the tenant, owner, and their neighbors. Whether it is the tenant, the owner, or the employee, we try to find a happy medium for everyone. Many property management companies, like FRPM, allow tenants to apply once and have their application be transferrable between any of their available properties. In the summertime FRPM can have as many as 100 properties available to choose from. This helps to alleviate some of the concern tenants have about their application fees.
5) First violation is an infraction with a $100 fine. Second or subsequent violations are misdemeanors
During the public hearing, it seemed everyone agreed that this consequence was a bit too aggressive.
Julie Tollifson, Leasing Team Leader
First Rate Property Management, Inc.
Boise, Idaho
Contact me for more information about this blog.