Monthly, I calculate some key performance indicators to get an idea of where the market is trending within Ada County (Boise area). In my opinion, the market remains strong with no flags of trouble.
Pricing:
On average, we're seeing 4 plexes sale at about $140,000 per door. However, two 4 plexes built over 10 years ago just listed at $610,000. Any new four plexes listed in the Boise and Meridian areas will likely we be well over $150,000 per door. As you can see on the below graph, we've been trending upward. So prices are going up. However, as I explain below, rents are supporting the higher prices.
Rents:
Base on Capitalization rates (Cap) and Gross Rent Multiplier (GRM), rents are supporting these higher prices. The trailing 6 month GRM average has been holding that $150 line fairly consistently. The consistency, not necessarily the number adds confidence to me. Also, Cap rates have been fairly consistent around the 5.25% range. A downward trend would concern me.
Days-On-Market (DOM):
Last month my reported average DOM were incorrect due to a formula error on my graphs. The below graph is correct. Four plexes are not staying on market very long at all.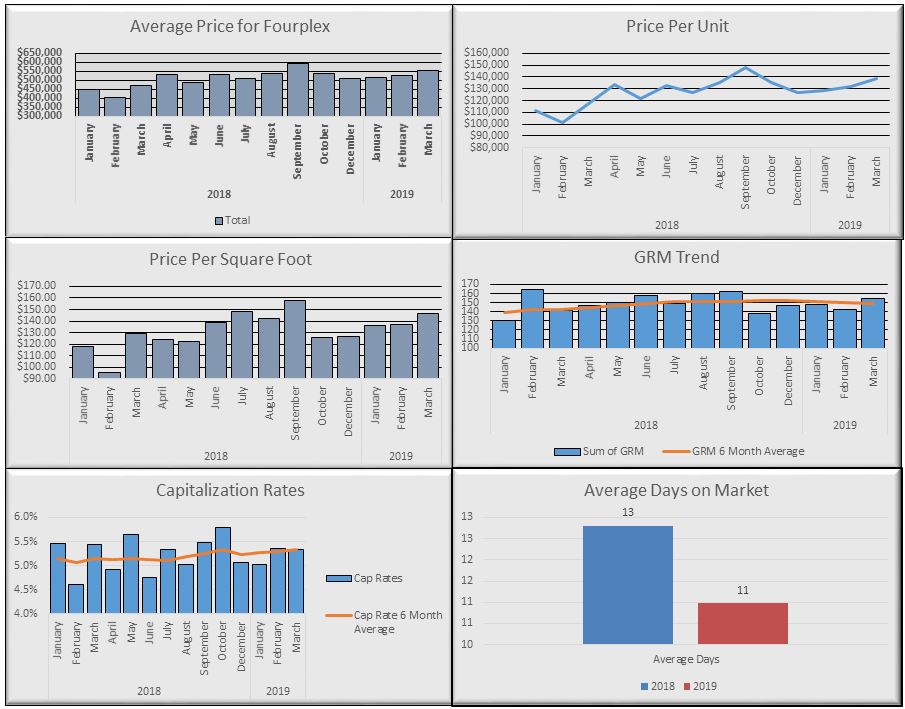 ---
Tony Drost, Chairman
First Rate Property Management
Please contact me with any questions